Poirot 1.54

What is Poirot?
Poirot is powerful search tool for making sophisticated searches & replaces over thousands of text documents, web-pages and file-names in seconds.
View the Poirot Flash tutorial
While ordinary Search tools allow you to search for a particular item, Poirot allows you to find types of items you describe.
search thousands pages of data for certain types of serial numbers
spider through a website looking for email addresses
change the extensions of thousands of files
much, much more
download and exchange search patterns with other users
export search patterns as valid grep for programming regular expressions or use in regex compliant software
Buy Poirot full-version, online for only $9.99!
System Requirements:
Windows 98, 2000, NT, ME, XP
64 MB RAM, Pentium II or later processor.

Mac OS X, Mac OS 8.5 or later.
64 MB RAM, G3 or later processor.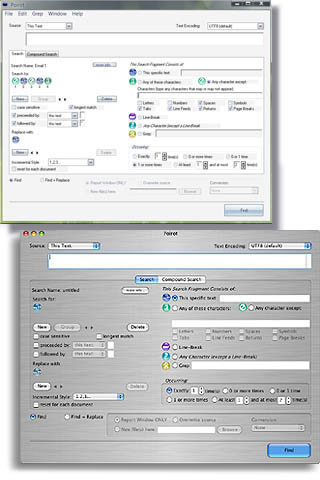 What's New in 1.5
multiple undo
preview dialog of file renaming, alowing you to uncheck any files you do not want renamed
improved results exporting, allowing new delimeted results exports of matches and replacements only
improved user-interface